Colour Inspiration
Nov 6, 2023
Upholstery Colour Psychology
How Fabric Choices Affect Mood and Atmosphere
The choice of upholstery color can significantly impact the mood and ambiance of the living space when decorating. Selecting appropriate colors can work wonders whether you're striving for a tranquil bedroom or a dynamic living space. In this blog, we'll delve into upholstery color psychology and provide ample color inspiration to help you make informed choices for your home decor. Let's dive in!
Introduction
Colour Psychology in Action
Must-Have Upholstery
Colour Combination for Ambiance

Conclusion

Color Psychology in Upholstery
It's commonly known that colors and hues can influence emotions and the overall ambiance of a space. Reds and oranges, warm in nature, can stir feelings of energy and passion, rendering them ideal as accent hues. It's best used in moderation to highlight prints in upholstery, as it can sometimes feel overpowering. Red upholstery might be too stimulating for a bedroom but perfect for a social living room. Cool colors like blues and greens instill a sense of calm and serenity, which makes them well-suited for a serene bedroom or a peaceful study nook. These colors can help create a peaceful and calming environment, making it easier to fall asleep.
"Color is the power which directly influences the soul"
- Wassily Kandinsky
Colour Psychology in Action!
Red
Energetic and passionate, red upholstery can create a lively atmosphere.

Ideal for a vibrant living room where social gatherings and dynamic conversations are the norm.
Blue
Calming and serene, blue upholstery promotes relaxation.

A perfect choice for a peaceful bedroom where rest and tranquillity are a top priority.
Green
Refreshing and nature-inspired, green upholstery brings the outdoors inside.

Suitable for a cozy reading nook where you can immerse yourself in the tranquillity of nature.
Grey
Neutral and versatile, grey upholstery provides an elegant backdrop.

A great choice for a sophisticated dining room that can adapt to various design elements.
Looking for more Inspiration?
Purple
Regal and luxurious purple upholstery adds an air of sophistication.

Perfect for an elegant master bedroom where opulence meets comfort.
Yellow
Cheerful and sunny, yellow upholstery infuses positivity and energy.

A vibrant choice for a home office where you need to stay motivated, productive and happy
Teal
A blend of calm and energy, teal upholstery is versatile.

Suitable for a home office or living space that needs to foster both focus and relaxation.
Our Top Picks for Must-Have Upholstery
Color Combinations for Ambiance
Tranquil Retreat

Soft blues combined with gray fabrics create a serene and peaceful ambiance for bedrooms.
Vibrant Gathering

Reds and oranges in plush and inviting fabrics can turn your living room into a hub for dynamic conversations and gatherings.
Natural Oasis

Greens and earthy tones in natural fabrics bring the freshness of the outdoors inside, creating a calming oasis.
Conclusion
In interior design, upholstery color psychology is a potent tool. Your color choices can shape the mood and atmosphere of a room, aligning with your vision. As you embark on your decorating journey, remember that color psychology is your ally. Let it guide you in crafting stunning spaces that feel just right for you. Your home is a canvas; upholstery adds life and emotion to your living spaces. Paint your world with colors that resonate with your soul. Explore Drapestory's exclusive upholstery range to get started.
People Also Read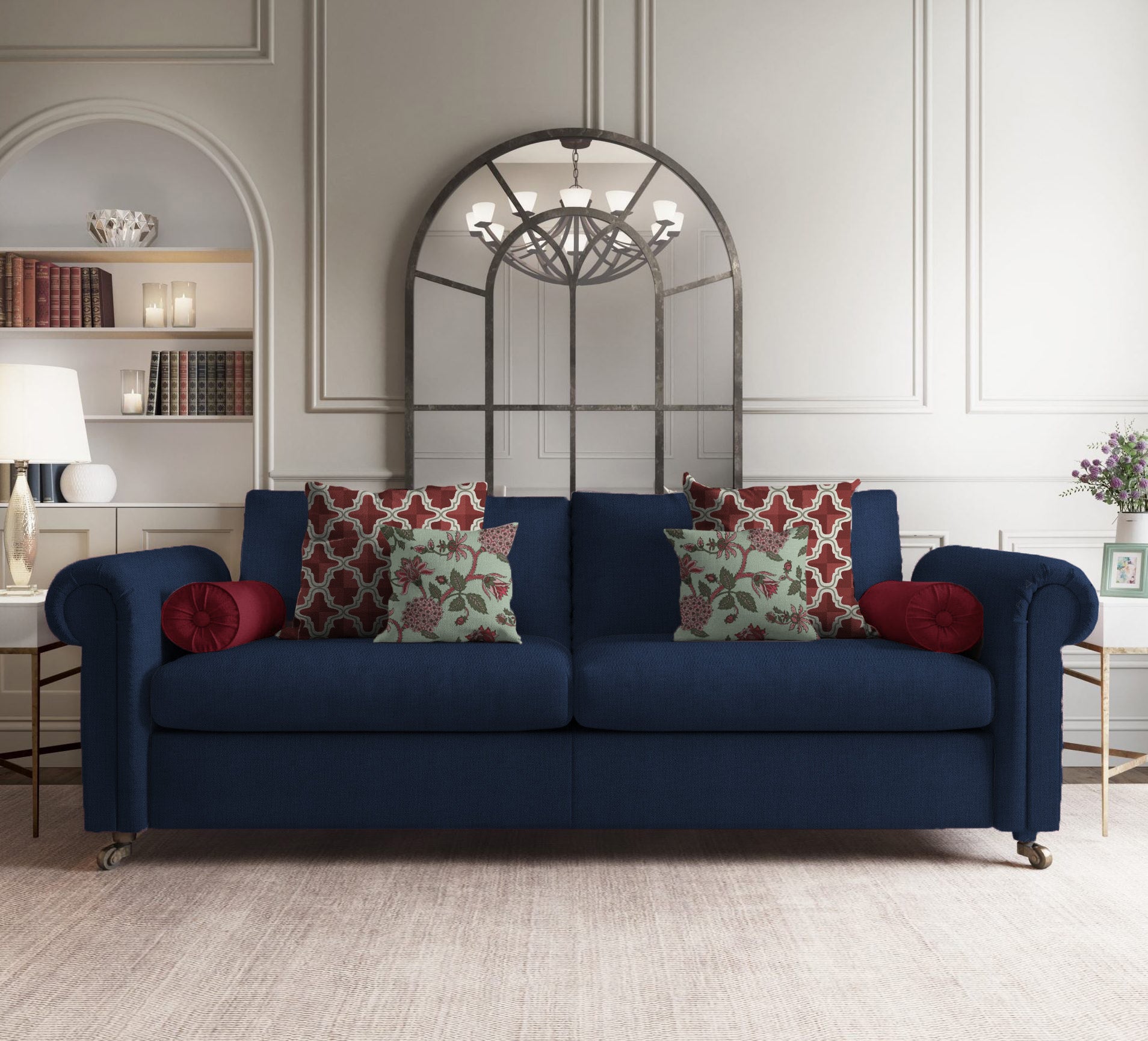 SPACES Drape Story | Nov 06, 2023
Have Any Questions?
We are here to answer all of your queries
Follow us on social media